---
Built in 1994, this Vehicle is among the Oldest Electric Vehicle Conversions in Toronto!
Driving to work for a week costs less than 16 Cents!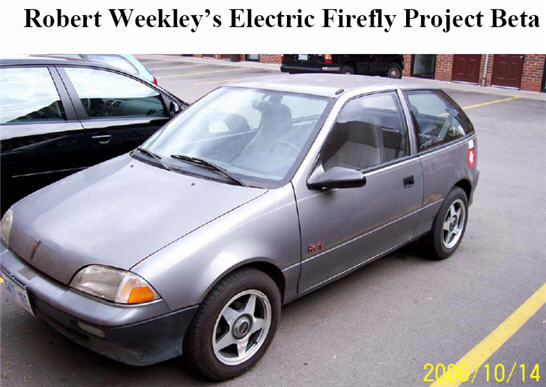 For the beginning of my electric Firefly Project and options for input,
read: Robert Weekley's Electric Firefly Project Beta (2-Page PDF)

For more frequent updates - check the Blog: nogas96volts Frequently.

For some interesting polls on Electric Vehicles, Performance, Charging time, Range, Cost, etc., Please check out these four pages on my site to enter your votes: Charger; Controller; Battery Boxes; and Conversion Steps.

For The Responses to these polls as at August 14th, 2009, please check out my article on the polls.


The Electric Jolt!

Choose a Day to check out the action:


It all Starts Here:
Oct. 12/06
,
Nov. 08/06
,
Nov. 15/06
,
Nov. 22/06
,
Nov. 29/06
,
Nov. 30/06
,
Dec. 02/06
,
Dec. 12/06
,
Dec. 20/06
,
A New Year begins!
Jan. 12/07
,
Feb. 15/07
,
---
Thursday, February 15, 2007
Custom Ordered Plates Ordered - "NOGAS96V" - arrived today, Still waiting on issues with the ETR 407 to be cleared so I can register them and Plate my Car!
---
Friday, January 12, 2007
Found an Auto Upholstery Company nearby - Enco Auto Trim & Glass - that had time to do my Front and back seats in my new colors: Black & Yellow! Dropped them off with them last week, and took a Material sample to the Embroiderers - Tara Embroidery & Print- on Monday for my Custom Headrest. They Look Great!

---
Wednesday, December 20, 2006
Finally found an Auto Insurance Company that would Insure my Newly Acquired EV (Conversion) Electricfly!
Got a quote from Presidents Choice Financial - Insurance - on my Firefly, and then on my Chevy Optra together. Both came out less than currently paying to Insure the Optra alone!
Decided to switch to them right away.
---
Tuesday, December 12, 2006
Interior Trim Panels that were cut, warped from welding heat, or whatever cause, and damaged to be replaced.

Have found a 1992 Suzuki at an Auto Salvage - that I can take the needed parts from - should fit - same year grouping.

Got all three Interior Trim Panels from behind the doors, to rear of vehicle, plus all 4 seat-belt reels & belts, rear seat and spare wheel cover carpet, a spare turn signal, all screws and bolts, strut covers and caps! $60 total!!

The carpet - should work for my car too - and - it is black - which suits my new planned color scheme of Black and Yellow for contrast and sharp looks! I can go back and get it for $20! It will need cleaning before I use it, but looks OK.

Still no hard solutions yet on the Insurance for an Electric Conversion like this - most companies never heard of such a car it seems!

---
Saturday, December 02, 2006
Car Insurance - Curent Company - RBC Insurance - has a Restrictive Policy for Vehicle Conversions and Modifications = No Coverage from them is available for this car.

Have proceeded to get the Car Registered and Transfered to my name - as 'Fit' (Safety Certified).

Will continue to look into the Insurance issue and solution.
---
Thursday, November 30, 2006
Vehicle Safety is complete, with Rear Struts and Wheel Cylinders installed.

Under Motor cover is installed - 2' x 4' Extra Tuff Acrylic from Home Depot, and some triming and bolt holes, self-tapping screws, and heat gun to warm and shape the plastic, it all fits in! Will get pictures on this later!

Shop Employees getting more interested in the cars performance, starting to take an interest in it's success. Pat asks for some information to post - so I give him a copy of the Project Beta sheet for him to post - while I get something more specific to his purpose put together.

A customer comes in and Pat starts promoting my Electric Firefly - telling them about it - so I get in while it is still on the hoist and spin up the wheels from first gear up to fifth - and show 110 Kmh on the Speedometer.

Now - need to call Insurance company and get it covered, as Howard & I completed the Transfer today.

---
Wednesday, November 29, 2006
Have the finished bodywork done and car back from the shop at Keele AutoBody, at a price I could cover. $700 all in.

Got about 8 Km on this charge - going to the Body shop, sitting 6 days, and returning nearly home, before resting
the batteries to make the last 1 Km. Ultimately drove 9.3 Km between charges. Getting a bit better!

Floorpan on drivers side - up into the wheel well arch, inside and outside was replaced with metal, welded in and finished.
Floor pan on passenger side - simpler rust was not so deep, completed same - welded in replacement sheet.
Both Rocker panels and inside frame support bars replaced with sheet and welded at butt joints.
Everything sprayed with Light Gray Primer, and outside rocker panels and wheel well covered with Rocker Guard finish.

Car is back in Mechanic's Shop (Pat's Service Center) for Safety check -
Along with purchase of replacements for Rear Struts, left and right; and rear wheel cylinders, left and right.
Expect it to be completed tomorrow!
---
Wednesday, November 22, 2006
Have finally got the Seats all out, and the side panels, and pulled the carpet - saved it for now - but - if I can get a good fix on the car - will get a new one from J.C. Whitney in Chicago! (About $180.00)
**Correction - December 6, 2009: Not Available now from J.C. Whitney!**
Put back the drivers seat, and use the floor mat for the drivers side to keep from going through the daylight (rust hole by left foot heel rest area!)

Hope to get the car in the shop today! Also got another quote from a little shop just up the road at about $800 for Rockers left and right & floor pans left & right, but - not until next week! Also - I don't think they have a sheet metal brake to do the rockers with.

Have taken some 'before' pictures for reference. Hope to get a body shop that will let me take some 'during' pics to add to thes and also of course - some 'after' pics in the end - to show how good (or not) the job was done!
---
Wednesday, November 15, 2006
Have found a Bodyshop close enough I think I can get there, on less than one charge, and they can do the Rocker Panels, and Floor Pan Rust removal and pan replacement - 1st guess ~ $500-$600.

I need to take out the passenger seats, and back seats, and make the drivers seat so that it can be easily removed.
After Successfull underbody work (& Safety) - will consider replacing batteries - plan on using Trojan 31XHS.

**Update Note - December 6, 2009: Trojan 31XHS = 11 Lbs Heavier than Installed Batteries (Each: 88 lbs more in total = 536 lbs.), Too long to fit existing Battery Boxes, No Posted Detailed Battery Specs to determing the 15 Minute, 30 Minute, and 1 Hour Capacities, for actual EV applications. Motor Draws range from peaks of 225 Amps to higher at times - Not sure what live this would yeild in such a battery. **
Recommendation - View my Whitepaper for a Deeper Study of this.

Some of the car's History and Original Conversion to Electric here.*
* Link Error Dec.6, 2009! Attempting to Update Link.
---
Wednesday, November 8, 2006
Have Already Put in: - New Hatch Gas Supports, New Door Handle, Drivers Side
Body - Upper is OK, Lower - Major Cancer

Below the Door Edges, at the Sills/Rocker Panels, and some of the Floor Pan
Rear wheel Cylinders & Struts need Replacing,

Decision Time is now!! Replace the Car? Fix the Car?
Underbody Fixing on a 1989 Firefly? $1,000+?
Battery Levels coming up - most cells all float over 1100 on the hydrometer now!
Continuing to Charge, Discharge cycles with Pack charger, single battery chargers, as required.
---
- Initial info - October 12, 2006
Off the Trailor - the car gets about 1 Km on what's left in the Batteries!
The first trip is to Pat's Service Center - to check what can be done with the stuck Park Brake Light Indicator.
First Saturday - Check Battery Acid Performance with Hydrometer,
4 Cells are quite Dry, 30 won't read above 1100 on the Hydrometer,
A trip to Dominion nets me 2 x 4 litre of Distilled water for the batteries!
Adding water first and charging the batteries gives some benefit - not much. Used 2 Litres water overall.
Adding Batcure to the cells and letting them sit for 1-2 days or maybe 3.
---
How Much are
YOU Paying?
Click to get access to
More Cities/States.